---
Double Exposure
Double Exposure
Double Exposure
Double Exposure
---
The initiative to create this project came from a double-exposed set of imagery created on a 35mm colour film.

The sister of the creative director Karin Rosie bought her a second-hand point-and-shoot camera for Christmas. Luckily, that camera had film in it already so it was decided to shoot another layer of photos on top of the layer underneath. As this took place during the pandemic and lockdowns, photo labs were shut and Karin Rosie couldn't fly back to England to develop her film at the university. She decided to send the film to England to her photography teacher Simon Griggs.

The final imagery turned out rather amusing. Simon scanned Karin Rosie's double-exposure negatives in and found a series of elderly gay couples' explicit photography. The combination of Karin Rosie's nature photography and explicit couples' shots complement each other and create an interesting fine art set of imagery.

This accidental collaboration gave the creative director the idea to collaborate with a number of photography enthusiasts by swapping films, without knowing what imagery is already on the film, and then shooting a second layer on the swapped film.

An extensive amount of double-exposure scenarios have been tested out by Karin Rosie and her friends to get the best results out of this project. The final imagery of this project is going to be showcased at a physical and online exhibition in Estonia or in England.

Here are some of the process photos of this project and the imagery that drove the creative director to start working on the accidental double-exposure project.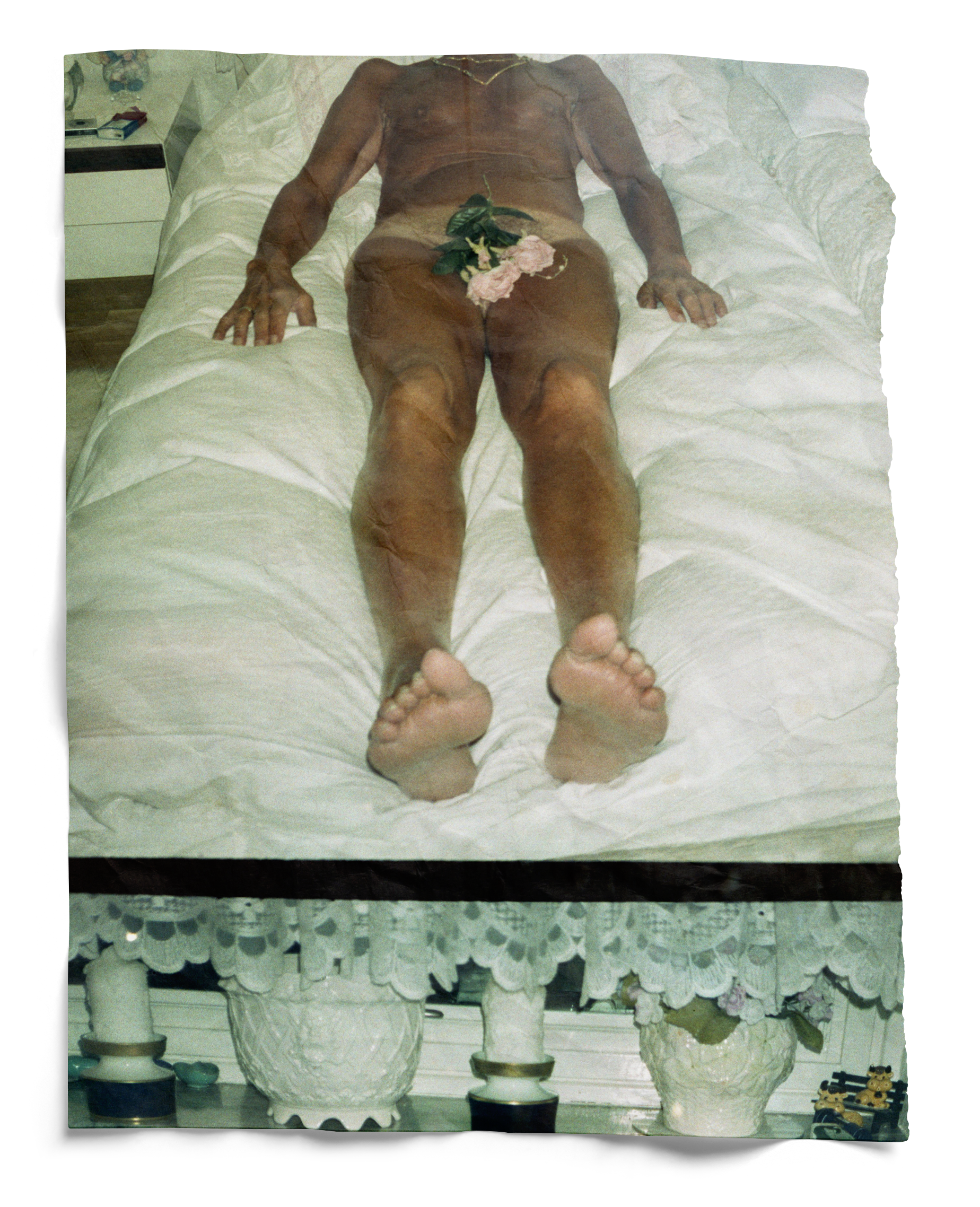 Here can be seen a few of the initial accidental collaboration shots, taken on a colour film that was found in a second-hand analogue camera.

The first layer of these images is a series of explicit photographs of an elderly gay couple. The second layer is taken in Saaremaa's frosty winter. That is where the creative director of this project is originally from.

The final imagery takes the viewer into a rather intimate domestic scenery. As this film was found in an old camera, it is impossible to say who is this couple in the photos.

Let this mystery be a part of this project; as time passes, it may unveil some of its secrets.
A series of digital mock-ups have been created to show how the aforementioned photography could be presented at the exhibition.

One potential presentation could be a print on a light-coloured fabric. Karin Rosie has tried out cyanotype making and screen printing with the inspiration imagery.

Initially, she dyed cotton fabric with avocado skins that gives a pastel pink colour. After that, photographs got printed out on acetate and then they were developed on the dyed fabric with sunlight.

The process of cyanotype printmaking and screen printing can be seen down below and digital mock-ups on the left-hand side.